New Kids on the Block 'The MixTape' Tour 2022
By: Debi Moen
Production Spotlight, September 2022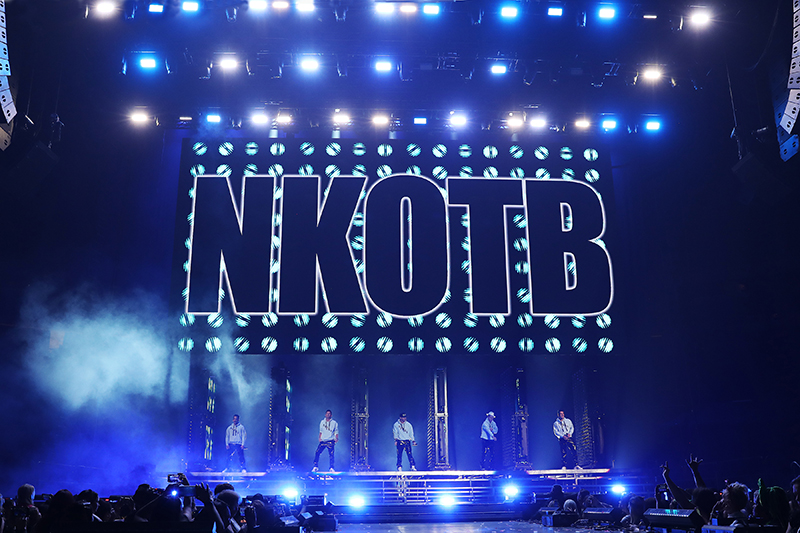 Photo by Todd Kaplan
New Kids On The Block's The MixTape Tour 2022 harkens back to a time when people created mixtapes on cassettes to personalize their own playlist of songs. The boy band's popularity skyrocketed during that era. Now decades later, firmly entrenched in their own careers, the band got back together to return to that time and carry out the mixtape concept live onstage. On this tour they invited special guests En Vogue, Salt-N-Pepa, and Rick Astley to join in and perform their hits like a live mixtape, running as one cohesive show. NKOTB has used this same mixtape concept on past tours with different artists—but with new productions.
Production Designer Butch Allen of Blame Funnel Creative and Lighting Designer/Programmer Cat West of Flash and Trash Works Inc. worked with NKOTB on the look of the show. Lighting Director Emily Bornt operated it on the road; Jeff Boguski was the Production Manager. Making it come alive were vendors Solotech (lighting), Screenworks/NEP (video), SGPS/ShowRig (staging, set, rigging), and ImageSFX (special effects, pyro and lasers).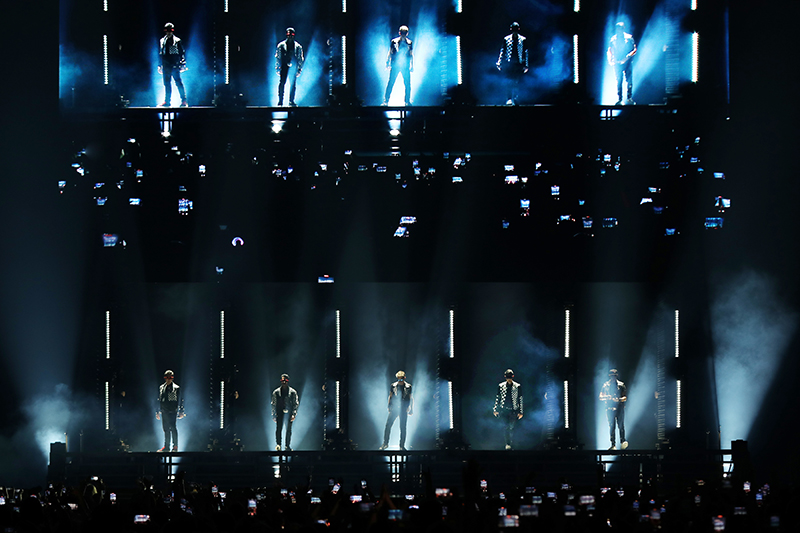 Photo by Todd Kaplan
Cat West and Butch Allen have worked together on past projects, including the 2019 NKOTB MixTape Tour featuring other guest artists. West was programmer then. This year she took on the lighting designer position as well.
"This time, I got to be involved earlier than in the past—from drawing up the plot with Butch to being a part of the creative conversations," she says. "I'm still the programmer as well, which is something I absolutely love to do. I'm probably happiest when I can pop my in-ears in and just start building looks for such fun music."
Along with a main stage and smaller B stage, Allen had a production design concept early on, she says. "He had this really cool idea for six monoliths that could rotate on stage and function as both an entrance when open, and then a great looking scenic element behind the guys when closed. It photographs so well. We talked about the lighting and drew up the plot together."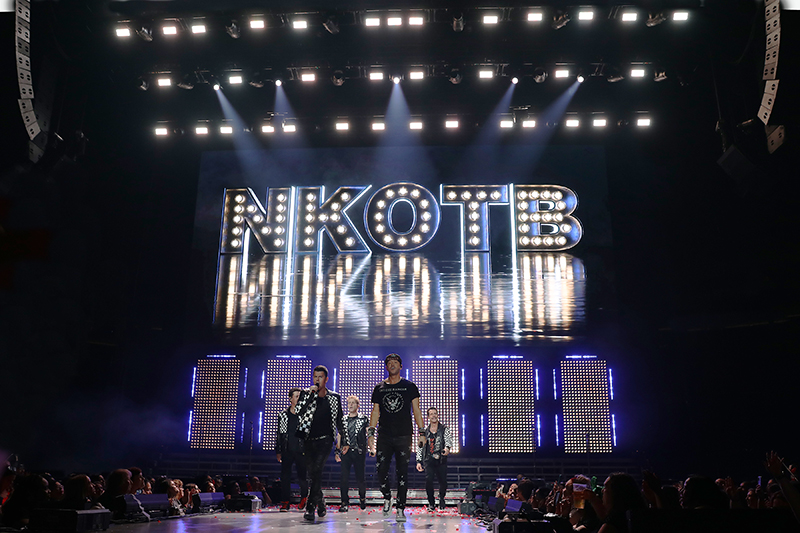 Photo by Todd Kaplan
The six monoliths became the central part of the main stage design. "I wanted a grid of pixels on one side of the monoliths—something that I could run effects and animations over, but also use like marquee lighting, or even as a big wall of strobes from time to time," the LD explains.
In searching for the correct fit in fixtures, West discovered the Ayrton IntelliPix-R. Solotech just happened to have the large quantity—108—that she needed. "The IntelliPix-R fit the bill and also, literally, fit the frames of the monoliths. They're ridiculously bright," she says, noting that most of the time she only needed them to run at 20% to get the effect she wanted. "I mean, they're simultaneously painful and awesome to look at."
The IntelliPix-R is a semi-transparent modular beam projection panel of 25 independently controllable LED emitters arranged in a 5 x 5 array. Rather than flat projection, it projects volumetric color graphics and media in three physical dimensions far into the air. Panels can be connected together to form large custom-sized screens.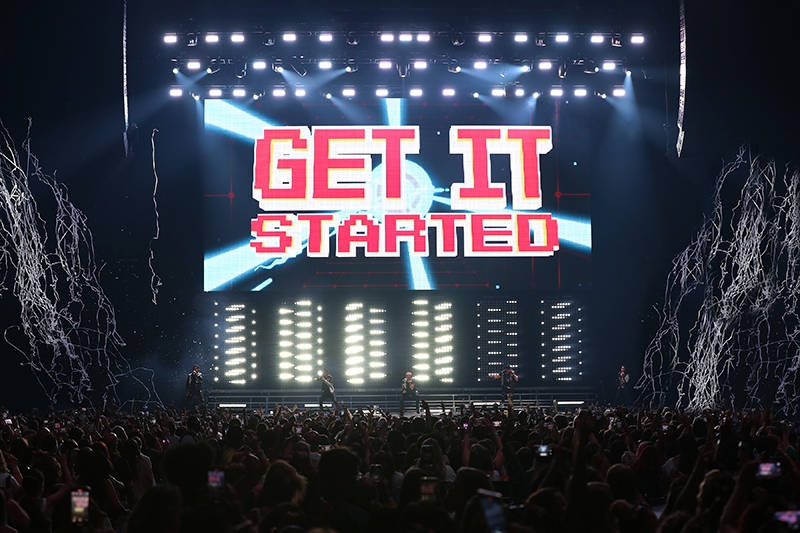 Photo by Todd Kaplan
Hanging above the monoliths is a 48' wide x 24' tall screen composed of ROE Visual MC7-H 7mm LED panels. I-Mag and creative content is fed through using a PRG Mbox media server.
Taking into account the light output from the video screen and the monoliths, choosing other lighting fixtures was a big consideration. West met that bright demand with 46 Robe BMFL WashBeams in the rig over the main stage and the smaller B stage. "There are only a couple of movers out there right now that have the brightness to stand up against a bunch of strobes and a video wall, and the BMFL WashBeam is one of them," she notes. "They're also extremely reliable."
To add punch to the show's party vibe, she positioned 49 GLP JDC1 hybrid strobes in the air hanging over both stages as well. "Like many other designers, the JDC1 is one of my favorite fixtures right now," West says. "It's just such a workhorse. It's hard to do a show without them." There are 64 GLP impression X4 Bar 20s lining the floor of both stages and the thrust providing a "beautiful uplight" on the performers, she notes, adding that they also line the outsides of the monoliths to add a little more "flash and fun."
Donnie Wahlberg and his associate Pam Chu were heavily involved in the visual language of the show and worked with the design team to bring life to ideas. "The good thing about the show is there's a real cohesiveness throughout the whole evening," West says. "The show has a magical way of weaving all the different styles of each of the acts into an evening that just flows. The show never really slows down. It's actually a lot of fun to play along with that pacing: finding fun ways to transition between performers and also between stages. I think we ended up with a lot of fun moments and a few surprises."
Lighting for a variety of artists who have varying musical styles as well might make one think that the segments are "shows within a show." That's not the case. "I think I like to consider each song on its own, and build for that. Certainly, the choreography of each act affects what I do—and every artist had their own personal style. Once I see how they're going to present each piece during rehearsal, I find a lot of inspiration for things I can change to better support their performances."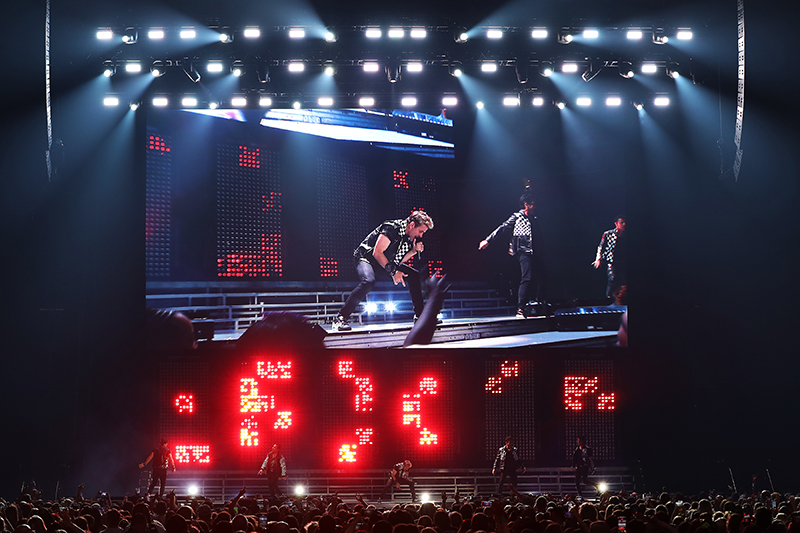 Photo by Todd Kaplan
Directing the Show
This was Emily Bornt's first time working with NKOTB, but she has worked with Allen on other productions including Dancing With the Stars Live tours and bands including Big Time Rush. And she worked with Allen and West on the Melanie Martinez K-12 Tour in 2019.
One of the biggest challenges she had as the lighting director was handling the 10 spotlights on the show. "We had five Robe BMFL RoboSpots for backlight, and relied on five house spotlights for the key light," Bornt explains. "There was the obvious challenge of directing operators [as to] which of the five guys in matching outfits to light up at the right time, but in addition there was the daily challenge of finding five unobstructed house spots that could make all the shots they needed."
She adds, "We carried a 40' x 40' cross of GT truss loaded with fixtures, a mic on a DMX winch, and a mirror ball in the center of the arena to light the B stage. Most spots with a direct front shot of the stage would either light up the mirror ball, or cast shadows, so we tried to utilize any side spots available to avoid this, or adjust the trim of the rig to avoid it as much as possible. But it still involved having to shuffle spot calls daily to get the best pickups. It brought moments of frustration but was a really great exercise in knowing the show and blocking, and keeping track of who each spotlight was on."
The performances flowed well as part of one cohesive show, Bornt says, which she attributes to the design team. "The way the show was built there was never a break to see it any other way," she explains. "They were very smart in naming it the MixTape Tour because that's exactly what it was. The order of the songs, and the songs chosen, were curated with the care and thought of the mixtapes most of us made when we were younger. The buzzword in rehearsals was 'contiguous'—everything was meant to be butted together seamlessly, whether it involved choreography, wardrobe, scenic changes, video content, musical interludes, or lighting."
She adds, "At the same time, each guest had a specific direction they wanted the visuals to lean toward, and Cat did an amazing job of designing and programming a show where each artist had their own unique flavor, without the performance seeming out of place in the lineup."
Photo by Todd Kaplan
'Movement and heat'
Another way to allow each artist to stand out on their shared stages was the use of special effects. Here again, Wahlberg worked with Allen on specific wants, adding to his request of "tons of confetti and streamers," says ImageSFX President Doug Adams.
"There were cues already determined when I came on board with most of the pyro for NKOTB, so I wanted to add something a bit extra to the current effects and give it some movement and heat. I added our ISFX Fire Screens to be recessed within the steps on the stage. In fact we ended up recessing all the pyro, flames and lasers within the touring decks and stairs. It was a really clean and effective look."
The Kvant lasers were to cover the stage and arena as well as audience scanning. The only devices that were placed on the downstage edge and thrust were the Sonic Booms—pyro which burst like flowers with different colors at the tail ends—and Magic FX PsycoJets, which are a newer, smoother CO2 smoke effect.
"NKOTB doesn't want New Kids to have all the effects. They wanted it even and tried to make everyone have something. I thought they would want the flames and the Fire Screens only for NKOTB—for 'Dirty Dancing' and a few other songs—but no, En Vogue had the flames and our creative cabal had the idea of where the moments worked. Which was cool, we shared the love with everybody."
Adams acknowledges that Rick Astley, known for his hit "Never Gonna Give You Up," is "not a special effects act," so for the pop artist they deployed the PsycoJets smoke effects, which have wave movements to flow with his music and streamer cannons for punctuation.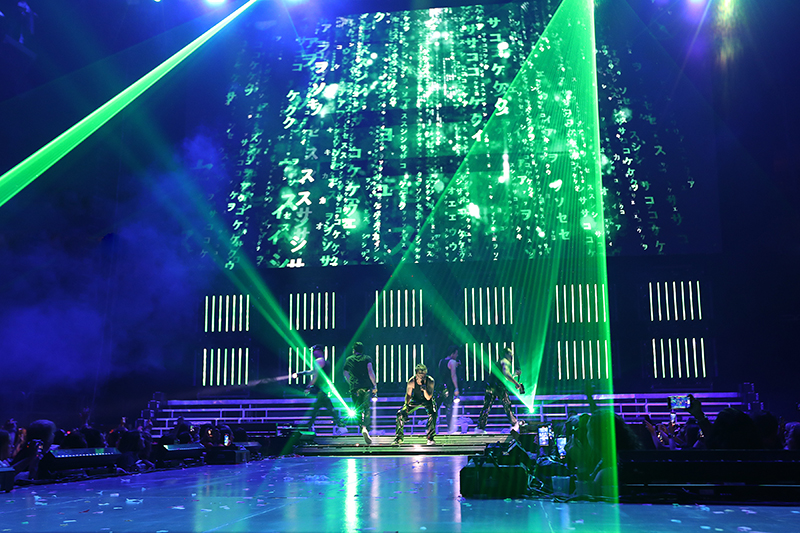 Photo by Todd Kaplan
A dramatic Donnie Wahlberg idea was the "flashlights and lasers" segment, which happens during a mashup of NKOTB's song, "Twisted" and the Eurythmic's iconic "Sweet Dreams." Says West, "That effect was all Donnie's idea. He wanted to start with the guys walking forward through the lasers and then be able to do a searchlight effect with all handheld flashlights. There's even a moment where the lasers follow the choreography of the flashlight beams. We drop out almost all of the lighting for that moment. It's a lot of fun."
Adams agrees. "Donnie wanted the lasers and flashlights to trade off each other and follow the lad's moves. It had a pretty fluid movement to it." Adams points out that Kelly Kamp, senior project manager, was behind the scenes at all hours taking his calls executing the changes that Wahlberg would request fairly often. "Donnie has a lot of passion for the show; he is really hands-on," Adams says. "It's Butch's decision but Donnie definitely has key moments that 'this has to happen at this time and at this duration.' It was great getting direction from an artist. He changed his mind a few times, but he was good to work with. Butch was very conscious of making sure we had a good line of communication between us all. I enjoyed it."
Nick Arnold was programmer for the lasers, flames and all the special effects timecoded to track. "Nick and I stayed many a night programming and creating a lot of very cool looks for a very up-paced production," says Adams. "Cat was very accommodating, working with us programming looks in the wee hours."
Adams also gives praise for his Crew Chief /Operator Zack Lawson, and crew members Javier Zuniga-Reyes, Brandon Messersmith, and Aaron Walters.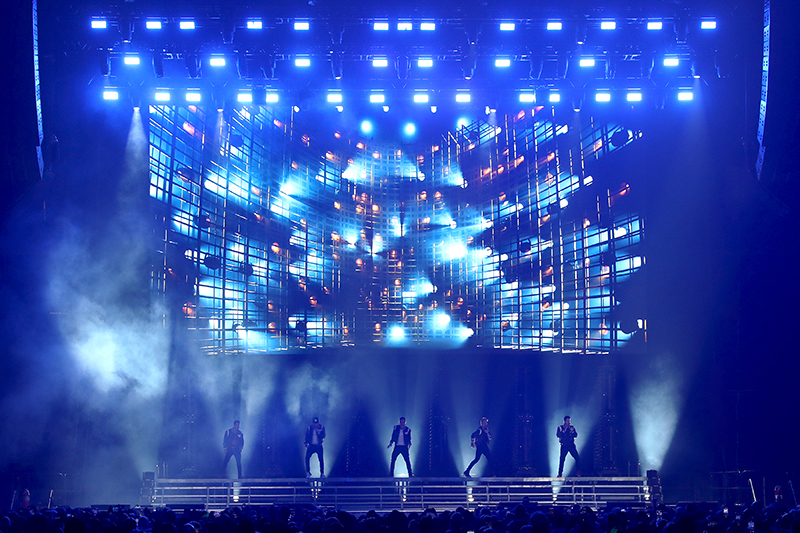 Photo by Todd Kaplan
'We got really lucky'
Bornt says she's toured with gear from Solotech before, but it was her first time touring with their staff as well. "My crew chief, Dave Carr, was a whiz with networking and found solutions for integrating all of the different parts of the show to be easily controlled from the grandMA2. He also handled the show like a pro while I had to quarantine because of Covid early on in the tour. I am grateful for such a solid lighting crew. They always had a positive attitude while handling an intense tour schedule, crew shortages, technical issues—like the cable storage bin on top of the dimmer barge being destroyed in a small fender bender the truck had en route to one of the last few shows—and were able to deliver a solid rig daily despite local challenges. I would be lucky to have them as a crew on another tour in the future."
West also gives credit as well to the Solotech team. "We couldn't have done this tour without the amazing crew from Solotech. Dave, JP, Cedric and Brandon were champs dealing with the long hours—day after day after day. Like most tours, this one was not immune to losing crew to Covid, but when that happened, everyone stepped up and went above and beyond their normal duties. We got really lucky getting that team."
Along with her team, West also enjoyed working with the artists on the tour. "Salt-N-Pepa are truly the queens of rap and really paved the way for so many female artists. En Vogue's vocal abilities blew me away every night. 'Free Your Mind' is one of my favorite songs, and they make it so powerful live. And I know I've said it before but, I've got to say it again: Rick Astley is a real rock star."
The North American tour started in May and ended in August in Hawaii.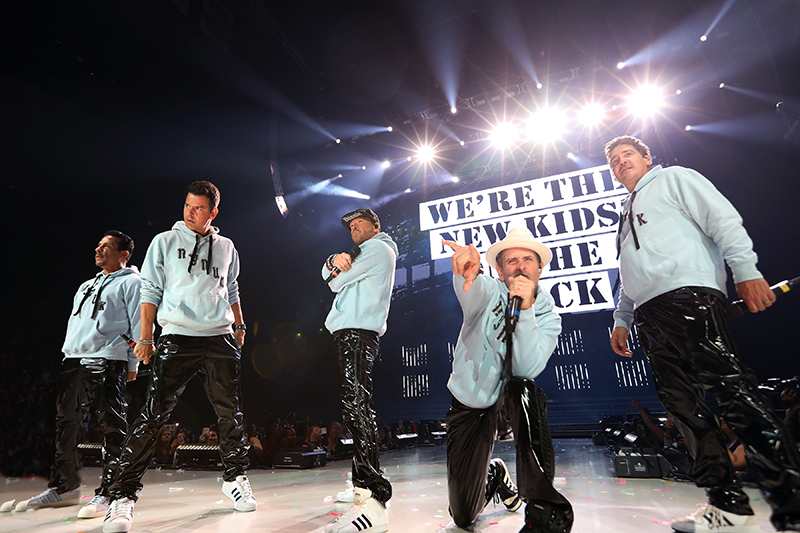 New Kids on the Block The MixTape Tour 2022
Production Team
Production Designer: Butch Allen
Lighting Designer: Cat West
Tour Manager: Victor Popovic
Production Manager: Jeff Boguski
Stage Manager: Terry Cooley
Lighting Director/Media Server Programmer: Emily Bornt
Lighting Crew Chief: David Carr
RoboSpot Technician: Jean-Philipe Blier
Lighting Technician: Cedric Vermette
Lighting Technician: Brandon Stewart
Video Director: Kevin Fisher
Video Crew Chief/Camera Operator: Matt Lindstrom
Video Engineer: Joe Sagara
Media Server Technician: Jason Galayda
LED Technician: Kim Lindstrom
Camera Technician/Operator: Julian VanBussel
Special Effects Crew Chief/Operator: Zack Lawson
Pyro/Flames Technician: Brandon Messersmith
Special Effects Technician: Aaron Walters
Laser Technician: Javier Zuniga-Reyes
Staging Crew Chief: Patrick Purciful
Staging Second: Josh Cota
Head Rigger/Camera Operator: Mike "Knux" Dunn
Second Rigger/Camera Operator: Dave Townsend
Vendors
Lighting: Solotech
Video: Screenworks
Staging/Set/Rigging: SGPS/ShowRig
Special Effects & Lasers: ImageSFX
Gear
Lighting
2 MA Lighting grandMA2 full-size Console
1 MA Lighting grandMA2 light Console
108 Ayrton IntelliPix-R
46 Robe BMFL WashBeam
5 Robe BMFL RoboSpot
64 GLP impression X4 Bar 20
49 GLP JDC1 Hybrid Strobe
17 TMB Solaris Flare LR
2 MDG The One Hazer
1 Mirror Ball
1 Rose Brand DMX Winch
Video
2 PRG Mbox Media Server
1 ROE Visual MC7-H 7mm LED Screen (48'W x 24'H)
2 Barco HDF-W30 Flex Projector
2 21' W X 12.5' H RP Fast Fold Screen
Special Effects
6 ISFX Fire Screen
16 Sonic Boom
8 Salamander Quad Pro
8 Magic FX PsycoJets
4 Low Fog
8 Pyro Boards w/ Comets, Mines, Gerbs
50' 20-Second Waterfall
12 Airbursts
4 Kvant Lasers
4 Swirl Fans
6 Confetti Blower
6 Double Barrel Cannon
4 Stadium Shot
Flypack/Camera System
Ross Carbonite Black 3ME Broadcast Switcher
4 Sony HXC-FB80 System Camera
2 Panasonic HD Robotic PTZ Camera
More photos by Todd Kaplan: